Thierry Neuville has struggled with his Hyundai's intercom system during the World Rally Championship stages at Arctic Rally Finland, also citing communication issues with his co-driver.
The electrical glitch contributed to Neuville surrendering a significant chunk of time to Evans on this morning's opening loop, with the Belgian's stronghold over fourth place trimmed from 12.5 seconds to just 5.8 seconds.
If the issue goes unresolved, it leaves the door open for Evans to capitalise on the second pass over the stages, the last of which will be run under the cover of darkness before crews return to the overnight service halt.
Neuville explained that cabin noise was especially bad in his headset, with this partially drowning out the instructions of his new co-driver, Martijn Wydaeghe, at crucial parts of special stages four and five.
"I lost time on the two last stages a little bit," he said.
"I couldn't really commit [to my pace notes] all the time on those stages because we are still missing some communication between Martijn and me.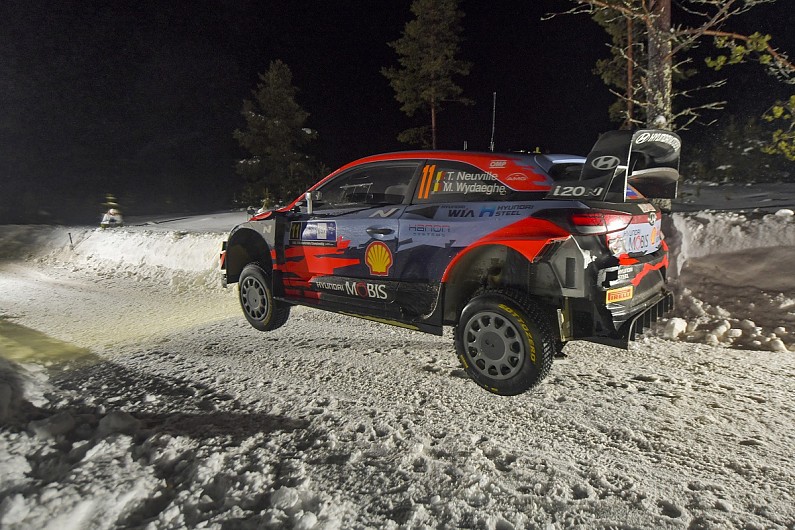 "Sometimes I get a lot of engine noise [through the intercom] and his voice really isn't that clear, so I really struggle to be sure that I understood well the notes, so sometimes I have to back off. I have to imagine [what the] corner is like.
"It's not great, especially in a fight like this where everyone is driving for tenths on each stage.
"I'm a little frustrated by that but we will see what we can do [to resolve it]."
Neuville also revealed that Wydaeghe - who was brought into the squad at the start of the WRC following the departure of Nicolas Gilsoul because of a contractual dispute - continues to work on his pronunciation.
"His native language is not [Belgian] French so he is working on that," he said, "but also the notes aren't clear enough for me to really understand the difference in situations.
"We are just missing a little bit of familiarisation.
"When I'm not confident I fully understood the note, I have to reduce my speed or take risks and this morning I didn't want to take any risks, so hopefully we can resolve the problem."