Christopher Bell says he is not "overly shocked" at winning his first career NASCAR Cup race on a road course, although he believes to win at Daytona "is quite surprising".
Bell, who was promoted to the Joe Gibbs Racing squad for 2021 in place of Erik Jones, posted a maiden career win at the 38th attempt in Sunday's 70-lap event on the 3.6-mile Daytona road course, passing Penske's Joey Logano on the penultimate lap.
The 26-year-old, who drove for the JGR-affiliated Leavine Family Racing in his 2020 rookie campaign, hunted down the leading Ford Mustang after a late flurry of cautions to slip by at the front-stretch chicane to record the win.
The victory also booked a spot in the championship-deciding playoffs later in the year - something Jones failed to do last season.
"After last year, I'd say that I'm not overly shocked [although] to win the first road course of the year is quite surprising," Bell explained after becoming the 197th different driver to win a Cup race.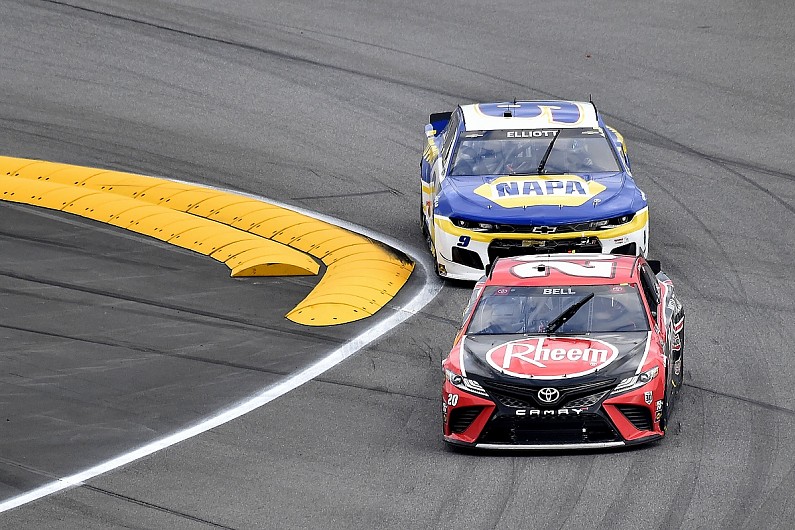 "Last year the road courses were not my best finishes, but speed-wise I was really fast at both of them [Daytona and Charlotte roval]. I certainly knew we would be in contention or at least competitive today.
"If you look at the road courses [in 2020], we just had issues. We just could not get off pit road and maintain our position. We would always lose track position somehow, some way, [and then] you are back in the hornet's nest.
"I think out of the 30, however many races, I think we had damage 20-plus times. We just didn't have all the pieces of the puzzle. Now at JGR, I'm very thankful that we do.
"I've always had a tremendous amount of respect for the guys that are good at road racing because I feel like it showcases talent," he added when asked about how it felt to win after racing for position with established stars such as Logano and Chase Elliott.
"The cars, especially here today, the low downforce package, they're slipping, they're sliding, you're kind of riding the car more than you're driving the car.