New Ferrari Formula 1 test driver Callum Ilott will race for the Italian manufacturer in this year's GT World Challenge Europe Endurance Cup with the Iron Lynx squad.
The Briton will be part of a two-car factory attack on the five-round endurance leg of the GTWCE in 2021 by Iron Lynx as Ferrari defends the drivers' title it won last year with Alessandro Pier Guidi and the AF Corse team.
Ilott will share one of the team's two Ferrari 488 GT3s with Ferrari F1 development driver Antonio Fuoco.
The two members of Ferrari's Academy junior programme will be partnered by Davide Rigon, who is no longer part of the marque's full-time World Endurance Championship line-up in GTE Pro.
Pier Guidi will be joined in the sister entry by fellow factory driver Nicklas Nielsen and Frenchman Come Ledogar, who took GTE Am class pole position at last year's Le Mans 24 Hours with the Luzich Racing Ferrari squad.
Ilott told Autosport: "To get my first experience in GT and endurance racing in such a competitive series is obviously a steep learning curve, but we've got a great line-up.
"I'm really excited to get to experience it, and it should be a lot of fun actually.
"I've been having a look at the car, and it's a bit different to what I'm used to."
Ilott, who has never driven a GT car, is due to get his first experience of the 488 GT3 at Mugello this week.
"It's something I'm going to have to get some experience in, but I'm sure with the team I've got around me I'll adapt well," he said.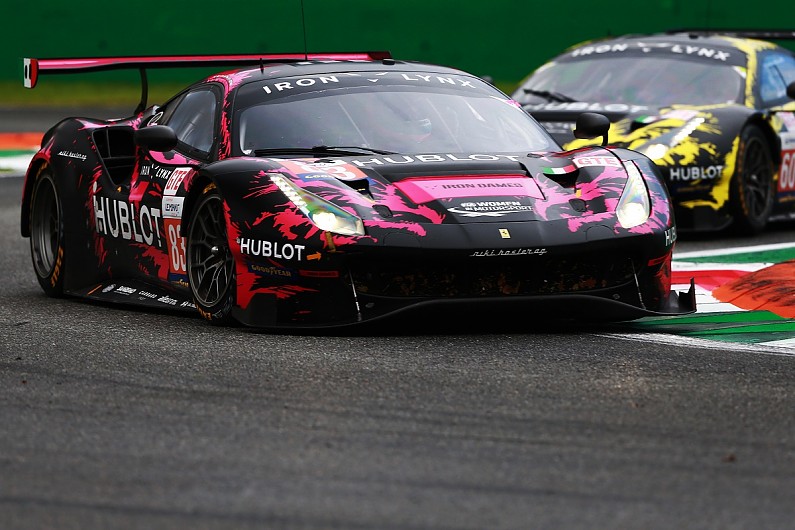 The confirmation of Ilott's race programme alongside his F1 duties in 2021 follows the announcement of Ferrari's return to the prototype ranks in the WEC in 2023 with a new Le Mans Hypercar.
PLUS: Why Ferrari is ending its 50-year top-flight sportscar exile
Iron Lynx, the team run by sometime Aston Martin factory driver and multiple FIA GT Championship race winner Andrea Piccini, announced its line-ups for the GTWCE enduros on the unveiling of its 2021 race programme at Mugello on Thursday.
It will field a total of 14 Ferrari entries across five championships in the coming season.
These include two cars in the full WEC and an additional car for the double-points Le Mans 24 Hours round in June.
Iron Lynx's WEC assault incorporates the all-female line-up of Rahel Frey, Manuela Gostner and Michelle Gatting.

The so-called 'Iron Dames' entry will also contest the European Le Mans Series, with Katherine Legge replacing Gatting, as part of a three-car assault by the team.
It will run a further two cars in the Le Mans Cup support series on the ELMS bill.
Piccini said: "We are thrilled to announce details of our most extensive motorsport season to date.
"Last year was an incredibly challenging season for the entire motorsport community around the world so we are delighted to have such a busy year ahead of us.
"After lots of hard work over the winter months, we do believe that our time has come, and this is tomorrow."