Andy Wallace had a one-off British Touring Car Championship foray with Team Dynamics at Oulton Park in 1993. As he told JAMES NEWBOLD, nothing could prepare him for what was to come...
When Le Mans winners making British Touring Car Championship cameos with Team Dynamics come to mind, the majority would immediately cite 1991 winner Johnny Herbert's three-round stint in 2009. But, back in the team's early days in 1993, it had welcomed 1988 Le Mans winner Andy Wallace at Oulton Park for a rare foray into tin-tops.
Toyota-contracted Wallace had been looking to supplement his racing activities after the cancellation of the World SportsCar Championship left him with "not much going on" after Le Mans, and he duly found it in a third Dynamics-run BMW alongside future champion Matt Neal and Alex Portman.
"I was always looking around for something to top the season up," recalls Bugatti test driver Wallace. "I think it was a last-minute call-up too, because I didn't have a chance to test before the race. It would have been my first time [at Oulton] since the F3 days."
Indeed, the 1986 British F3 champion wasn't a frequenter of the Cheshire track during his Group C pomp, although had previous experience of racing with a roof overhead from a guest appearance in a Renault 5 Turbo race in 1986, finishing fifth after he'd jumped out of his regular Madgwick-run F3 Reynard. Still, he describes his try-out in the BMW as a "culture shock".
"Touring car racing is such a different discipline from single-seaters or sportscars that I certainly didn't find it easy just to jump in and go," says Wallace, who qualified 23rd in the 25-car field. "OK, it was rear-wheel drive at least, so that was one thing that wasn't quite so different, but even so it made you think and try to adapt your driving style.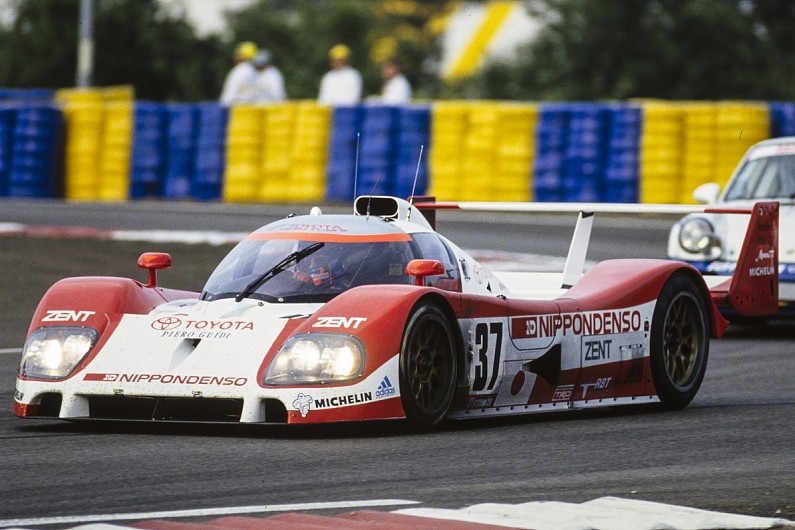 "I was very impressed with Matt Neal [pictured below at Donington Park]. I was trying to look at where I was losing compared with him and he was just brilliant everywhere."
Naturally, Wallace sought advice from his paddock contemporaries, but not everybody was helpful.
"I spoke to quite a few people and they were trying to give me bum information so I would do rubbish," he says. "I think Patrick Watts was one of those..."
"I made it OK around the corner, but I have a nasty suspicion he punctured his radiator..." Andy Wallace
Come the race, Wallace had a spirited battle with fellow BMW racer David Pinkney that involved a fair amount of old-fashioned trading paint.
"Coming towards Lodge, the last corner, he gave me a good old nudge, and shoved me out of the way," he says. "Later on in the race, I got past him again, but he was still behind me and he was all over me like a rash."
It may only have been 11th place at stake, but Wallace was determined to hold firm and made a plan on the fly.
"On the last lap, I'm coming down towards Lodge and I see in my mirror that he's coming like gangbusters," he says. "I knew exactly what he was going to do - use me as a brake and shove me off.
"I was on the inside so he couldn't pass me and I lifted off earlier than the braking area so that when I got the shove, I'd still make the corner. Well, the shove did happen and it was quite a big one! I made it OK around the corner, but I have a nasty suspicion he punctured his radiator..."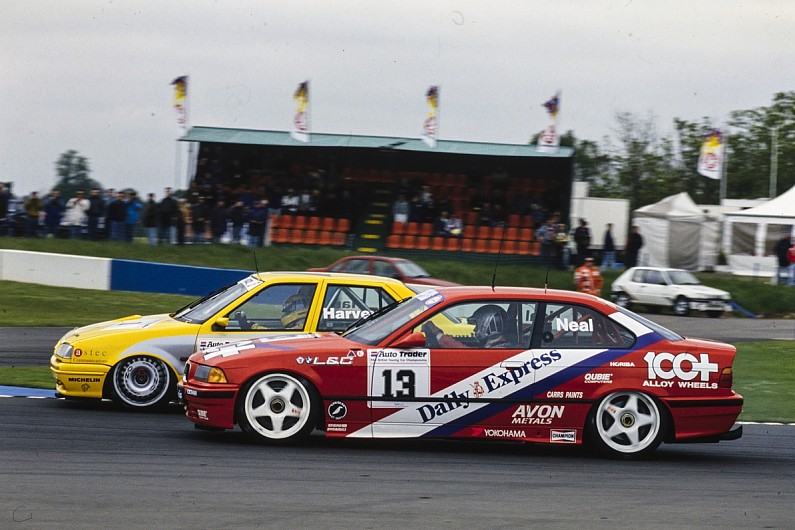 It would prove the one and only BTCC outing for Wallace, who reckons he "would have needed a lot more running to be competitive" in the series.
"It wasn't exactly a spectacular result," he concedes.
But it wouldn't be his last in a tin-top, although the experience of a two-litre super tourer with limited downforce - it was only after Alfa's homologation special of 1994 that rear wings became de rigueur in the BTCC - wouldn't prove especially helpful when he joined the DTM in 1994, driving a year-old Alfa Romeo for the privateer Schubel Motorsport team.
With four-wheel drive, it was an altogether different beast, ironically more akin to the Group C monsters he was used to than the two-litre BMW. Unfortunately, his mostly unsponsored virgin white 155 V6 Ti lacked the ABS of the contemporary factory cars, which meant it was "very difficult" to drive.
"Especially with the way the diffs used to work, if you locked a wheel then you had this very small warning where you hear the diff clattering, then the wheel locks, the engine stops and you crash because they're all linked together," he says. "So once you lock one wheel, you lock all four and then you slide off! The trick was trying to figure that point out and getting to the limit without locking the wheels and going off."
He only completed a half season before the lack of sponsorship began to bite, spelling a return to sportscars with McLaren for the 1995 BPR Global GT Series. But he went out with a bang in his final outing at the Donington non-championship round, where he took over team-mate Michael Bartels' Jagermeister-backed machine and won the privateer class in fifth overall.
"It was getting better all the time," recalls Wallace. "But Michael Bartels was always faster than me in the white car and I just could not figure out why he was quicker.
"Then when he couldn't race at Donington, the team gave me the Jagermeister car and straight away I was second in the privateer class in the first race and I won the second one. Sure enough, the orange [Jagermeister] one was faster than the white one for whatever reason!"